The Enrique Malek International airport, or (DAV) in David is finished with construction of the terminal and runways. The terminal looks updated and modern. Parking has been added and the terminal is ready for business.
Air Panama has had flights to San Jose, Costa Rica (SJO) for some time and also offers daily flight to the Albrooks, Marcos A. Gelabert International airport (PAC) in Panama City.
Since earlier this year, Copa has begun offering flights directly to Tocumen International airport (PTY). This was a much needed addition for David. Now passengers can make direct connection at Tocumen for other international destinations.
Copa offers two flights a day to David from (PTY). Currently they are around an hour long and leave (PTY) at 7:50AM and 5:32PM and arrive at (DAV) at 9:01AM and 6:34PM concurrently. These flights run seven days a week.
Air Panama offers two flights that consistently run Monday through Sunday from the Albrook airport in Panama City. They leave (PAC) at 7:00AM and 4:55PM and arrive (DAV) at 7:45AM and 5:30PM. In addition there are other flights that leave on specific days only.
Currently Air Panama allows 14 kilos or 30.8 poun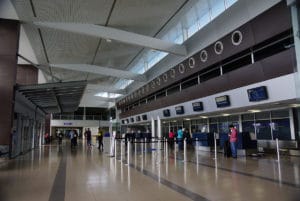 ds of luggage per person within Panama. Copa currently allows 1 or 2 bags with a combined weight of 20 kilos or 44 pounds of luggage per person.
As a special note, to get your Jubilado discount you will need to book your flight with a local travel agent or go directly to the airline offices and purchase your ticket there.
© 2015 Magda Crespo Panama Realty